As we near the end of 2016, it is time to consider a vehicle donation.  This is a win-win…you get a tax deduction, and proceeds of the donation go directly to our charity programs.  Help those needing help in your community!  Click here:  http://www.fairfaxlions.org/donate-a-vehicle/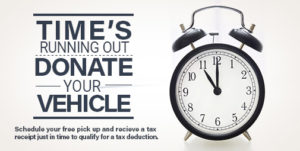 100% tax-deductible!
Free Towing!
All proceeds to charity!