Summary of Service Programs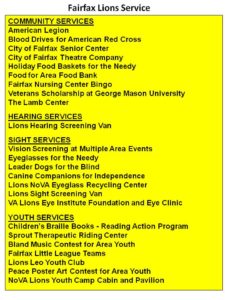 Give the Gift of Sight
With more than 44,000 Lions Clubs in 185 countries and geographical areas and more than 1.4 million members, Lions Clubs International is the world's largest service organization. One of their major goals involves eyesight. Helen Keller, in 1925, challenged the world's Lions to become the "knights of the blind" in the crusade against darkness. In response, the Lions Clubs established a broad-reaching organization – The Sight First Program – that works on several different levels to support vision care.
Across the United States, regional Lions Eyeglass Recycling Centers clean, repair, and classify glasses collected through the Give The Gift Of Sight. The eyeglasses are then distributed free-of-charge to needy individuals around the world.
It doesn't take much effort to drop off that old pair of spectacles at your local business or Lions Club. And even if you don't wear eyeglasses yourself, encourage others to bring in their old eyeglasses. When you think about it, this small gesture can make a world of difference to a needy person.
Through the generosity of the following businesses and agencies, the Fairfax Host Lions Club provides eyeglass collection sites. Please bring your used eyeglasses to one of these locations and help us in this very worthy project.
| | |
| --- | --- |
| Business | Location |
| | |
| | |
| Wal-Mart | Fair Lakes Center |
| Fairfax Nursing Center | Main Street |
| Pan Am Optical | PanAm Shopping Center |
| Fairfax County Govt. Ctr. | Library suite 123 |
| Pearl Vision Center | Kamp Washington |
| American Legion Post 177 | Oak Street |
| Safeway | Courthouse Plaza |
| Learning In Retirement Institute, Geo. Mason Univ. | Roberts Road |
| Mosby Hairstylists | Main Street |
| Fairfax City Regional Library | Chain Bridge Road |
| Chantilly Regional Library | Stringfellow Road |
| Centreville Regional Library | St. Germaine Drive |
| Oak Marr Recreation Center |  3200 Jermantown Road, Oakton |
| For Eyes Optical Company | Lee Highway |
| Hour Eyes Fairfax Shops | Lee Highway |
| | |
| | |
| Fairfax Opticians | Main Street Medical Building |
| | |
| Hour Eyes at FairOaks | Fair Oaks Mall |
| Dr. Bremel | Main Street |
| Dr. Notes | Main Street |
| | |
| Providence Presbyterian Church | Little River Trnp |
| Everly Funeral Home | Main Street |
New Eyeglasses for Those Eligible for Financial Assistance
The Fairfax Lions Club program provides new eyeglasses to adults in our geographic service area (City of Fairfax, Centreville, and Chantilly) who are uninsured with total family income less than 200% of the Federal Poverty Guidelines.  Financial need is verified by the Fairfax County Health Department.  Persons seeking assistance should begin by contacting the County Health Department.
County residents meeting the financial assistance guidelines may get an appointment at the Lions Eye Clinic in the Fairfax Hospital complex.  The County Health Department makes these appointments – which define any needed vision correction.
When the qualified person only needs a prescription for eye glasses, he gets the prescription and the Lions Club closest to where the client lives is notified.  Fairfax Lions Club can only serve those living in City of Fairfax, Centreville, and Chantilly.  The Lions Club notifies the client and tells them where to go to get their glasses.  The Lions Club pays the provider for the glasses provided – not the person seeking assistance.
If the examination identifies more serious eye conditions such as cataracts or other conditions, the doctors at the clinic will treat the condition for the client at no cost if the patient is eligible for financial eligibility.
Fairfax Lions Club supports the Virginia Lions Eye Institute Foundation (VLEIF) which provides $50,000 annually to help INOVA with the expenses associated with the Lions Eye Clinic. VLEIF has also purchased the majority of all of the equipment associated with the clinic and provides new equipment when it is required.  Local Lions Clubs have provided nearly $1,000,000 to the  Lions Eye Clinic since it was started in 1954.  The Fairfax County Health Department has supported this clinic since it's founding, originally with office space and today as described above.
Music Scholarships for Local Youth
Each year, Fairfax Lions hold a vocal and instrumental competion among local youth, to win a scholarship.  The event is called the "Bland Contest" and features expert music judges and very talented youth performers.  Local winnrs advance to state-wide competitions.
Blood Drives
For many years, Fairfax Lions have held blood drives for the American Red Cross – two or three times a year.  The blood collection location is Providence Presbyterian Church in Fairfax, VA.   Since we began these blood drives, many years ago, Fairfax Lions are recognized for the donation of over 3300 units of blood! You can help by giving the gift of life sustaining blood at one of our blood drives.

Support for Vision Impaired in Vietnam
The Fairfax Lions Club awarded $1000 to support vision impaired children in Vietnam.  In conjunction with Global Comunity Service Foundation, this program accomplished:
Skill training for 15 visually impaired children from Quang Tri Blind School was initiated in Vietnam. It includes two main components:
Training on food making
Training on incense making
The objective of these two types of training are:
To equip the children with skills on making basic food that can serve in the family
To provide them with a vocational skill in incense making
To build confidence for the children in doing cooking at home in order to support their family
To change the behavior of the parents towards the children
To prepare them with a job skill for their future
This project lasted 2 months with the first months dealing with food making and the second for incense making.
The first component was initiated with some food made for Tet (Vietnamese New Year). Teachers instructed the children on making pickles from papaya, chili, carrot and mustard green. The process includes washing, cutting, bottling and cleaning up. The children were very excited to take part in this training since they did not think they could do the cooking before. This training was repeated to make sure the children are able to master the process and can perform it back home with assistance from family members.
The next component was incense making training, and was equally suuccessful in providing the children with life skills of value in their community.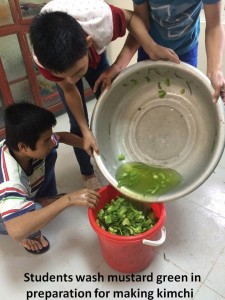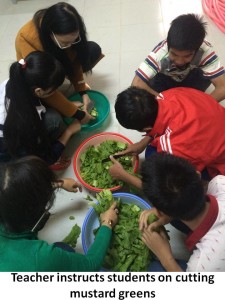 Youth Peace Poster Contest
Each year the Fairfax Lions Club selects the winning "Peace Posters" from local middle schools.  Lions Clubs International has about 400,000 young persons around the world participate in this contest.  The poster theme always relates to spreading peace across the world.  Local (sponsored by the Fairfax Lions Club) posters are recognized in December each year.  For example, in 2014 posters were created by: Seung Min Lee of Rocky Road Middle School, and Hailey Steen of Stone Middle School.  Each youth received a $50 award from Fairfax Lions Club, and advanced to the next level of international competition.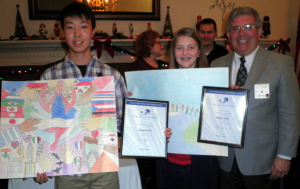 Seung Lee and Hailey Steen to the left of Lion Jeff Root (Fairfax Lions contest chairperson)
A highlight of our Fairfax Peace Poster contests is the poster created by Jasmin Yoon in 2015.  After winning at local and state level, Jasmin's poster was selected in 2016 (one of 23 selected from 400,000 posters) for a merit award of $500.  We congratulate Jasmin on her wonderful talent, illustrating her vision of peace uniting the world.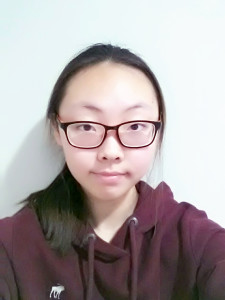 Jasmin Yoon of Rocky Run Middle School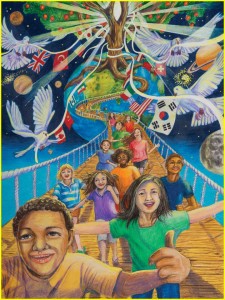 Jasmin's Winning Poster
Lions Deliver Holiday Dinners
25 Holiday Food Baskets  – ready to deliver
Three times a year, the Fairfax Lions deliver holiday dinners to deserving families in the local area.  Lions assemble complete Thanksgiving Food Baskets for 25 families.  With verified lists of deserving families, Lions Club members delivered the meals.  Lions are privileged to be able to help families enjoy a wonderful holiday meal!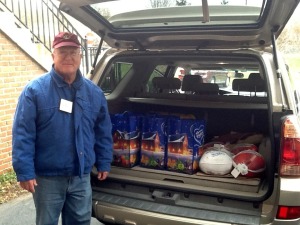 Lion Marty loads turkey dinners to deliver
Fairfax Lions Conduct Vision Screening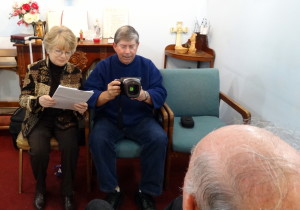 Lions Sandy and Phil screen a guest at Fairfax's Lamb Center
Fairfax Lions employ special hand-held vision screening equipment (see photo) to screen for possible vision problems among guests at Fairfax's Lamb Center (and other venues).  The screening allows us to advise persons of potential vision issues and recommend followup with a medical professional.
The Lamb Center serves the poor and homeless, transforming lives across Fairfax.  See all the services provided at http://www.thelambcenter.org/services/
Fairfax Lions:  WE SERVE!
Lions Work to STOP DIABETES
Each year, we raise money from events such as our citrus fruit sale.  Those monies are used across a variety of important charity programs to support our community.  The thrust of our effort is to help focus attention on diabetes and research programs to stop diabetes.  Individuals learn that Type 2 diabetes is largely preventable, and can be reversable through a combination of food choices, meal portions, and regular physical activity.  We thank our community for supporting our various fund raising activities which enable Fairfax Lions to donate toward this critical effort targeted at the increasing eridemic of diabetes!
Lions Call Bingo at Fairfax Nursing Center
Each month, Fairfax Lions assemble at the Fairfax Nursing Center to call bingo and award prizes to nursing center residents.   Pictured is Lion Carl Enix calling Bingo.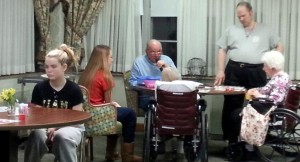 Lions Present Scholastic Grants
Among many service programs, the Lions provide financial aid for training or education of sight-handicapped individuals. This year they awarded 4 scholastic grants.  FairfaxLions grants include $1500 each to Ms. Amemma Amin and Mrs. Ann Pimley. Both are legally blind. Amemma, 17, is a junior at Robinson HS and will use her grant to buy video magnifier technology to assist her in college.  Ann is a student at George Mason University and will put her grant toward college tuition. The grants are made through Virginia Lions Eye Institute which is co-sponsored by Inova Health System.  VLEI pays for equipment purchases, community education, scholarships, and clinical research across northern Virginia to help those with low-vision.
L-R Lion Bill Bartlett with Amemma Amin and Ann Pimley receiving their grants)
Lions Screen Vision of Special Needs Children
Fairfax Lions conducted vision screening of special needs children.
One in four school age children have a vision problem, yet only 10% of children needing glasses actually have them. We serve to help identify vision concerns early, so the child may receive corrective help as early as possible.
Fairfax Lions use the PediaVision Spot camera to screen children as young as 6 months for vision problems.  Lions across Northern VA have access to many of these camera systems.
This is the screening tool – the PediaVision Spot camera…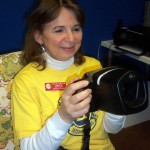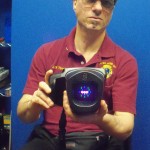 Screening takes just a few seconds – this is what the child sees…
And what the camera reports…the customer receives a printed copy.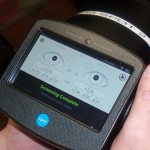 A happy customer being screened

Rugarama Hospital, Uganda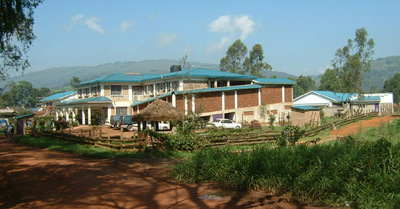 Our club played a significant role in working with Lions Clubs International and Truro Church in acquiring grants for Rugarama Hospital in Uganda. Please visit the hospital's website at www.RugaramaHospital.org.