Donating your car (or truck, van, SUV, boat, motorcycle, ATV, RV, trailer or airplane) has never been easier!  Simply have the vehicle (it doesn't even need to run) & title; we do the rest.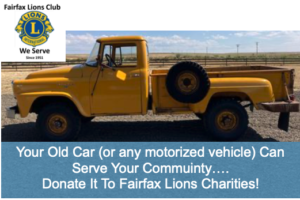 WE BOTH BENEFIT!  You get a tax deduction; and Lions Charity Programs get proceeds from selling your vehicle.
Simply fill out the form below, OR give us a call at 844-45-LIONS (844-455-4667), and our trained staff will guide you through the donation process.