This summer, Fairfax Lions began rennovating a cabin at the Northern Virginia LionsYouth Camp. Exterior work was completed in October, and recent work is interior rennovation. Just completed is interior painting. The ceiling is now white, walls are 'battleship gray' and trim is charcoal gray. We applied three coats of primer and two top coats to assure good coverage.
New Cabin Interior: Stain-free, Sparkling White Ceiling & Grey Walls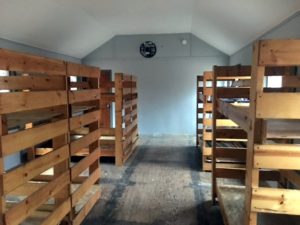 Next up is electrical upgrade (lights, electric conduit, outlets, heaters) and installation of floor covering – for completion in December. THANK YOU Club Members for your work to make this happen – it is a wonderful service to support local youth groups using the camp.
The purpose of the Camp is to provide camping facilities to any youth group accompanied by adult leaders and supervisors. The Camp Site is located on a mountain west of the Town of Boyce and the Appalachian Trail and just east of the Shenandoah River in Clarke County, Virginia.
For more information, see: Lions Youth Camp