Join Fairfax Lions and guests, Wednesday, June 14th, for our monthly fund raising dinner at The Auld Shebeen restaurant, 3971 Chainbridge Rd, Fairfax, VA 22030.  This is a charity fund raiser!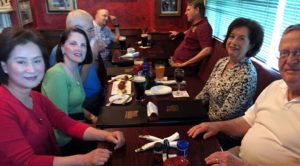 Meet at 6:30 pm for Happy Hour prices on beverages & appetizers. Ask to "Sit with the Lions Group" in the Yeats Library dining room. Order from regular menu; separate checks; pay your own bill.
The Auld Shebeen donates 15% of what we spend to Fairfax Lions Charities – to help folks in our community!  Charity funds raised at this event enable us to purchase new eyeglasses for folks in our community who need corrective glasses but cannot afford to pay for them.
Parking: Old Town Plaza city garage, 3955 Chain Bridge Rd (access from Rte 123/Chain Bridge Rd or University Dr). Take elevator to 4th level, walk past plaza shops, cross North St at the light to The Auld Shebeen.
No reservations necessary. Questions:  leave a comment (click on Leave a comment  ), or send an email to…[email protected]
Join us at…

http://www.theauldshebeenva.com/new/