Rocky Run middle school student Jasmin Yoon has been named a merit award winner in the 28th  annual Lions International Peace Poster Contest.   Jasmin's winning poster was chosen for its originality, artistic merit and portrayal of this year's theme "Share Peace." She is one of 23 merit award winners chosen from approximately 400,000 entries drawn by children ages 11 to 13 from 65 countries.
As a merit award winner, Jasmin will be presented with a cash award of $500 and a certificate of achievement by the Fairfax Lions Club, local sponsor of the contest.  Each year, Fairfax Lions sponsor local youth in the Peace Poster Contest, intended to foster a spirit of peace and international understanding in young people worldwide.  In both local and state judging of contest entries, Jasmin won other cash awards.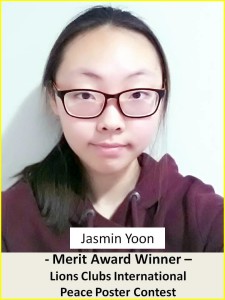 Fairfax Lions are proud of Jasmin for her abilities and accomplishments, as we are of all local youth who submit entries for the contest.